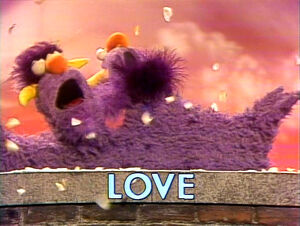 Everyone helps clean Gordon's garage.
Animation: An orange pops out of a basket of fruits and gets "made up" as the face of Carmen, the role in the opera of the same name. While singing "Habanera," the famed aria from the opera, Carmen loses her "face" and can't resume singing until the wig returns. (First: Episode 0277)
Cartoon: "Why Bears Smile" - a story of a bear who learned which body part to cover when sneezing. (EKA: Episode 1167)
After fighting with each other, the Two-Headed Monster reads the word "Love" and forgets their feud.
Ernie & Bert — While Ernie looks after Hooper's Store, Bert asks him for something to drink. Ernie starts out with a glass of unflavored soda water, tastes it, and decides it's too dull for his ol' buddy Bert. To Bert's dismay, Ernie then adds some strawberry syrup to the soda water, then a scoop of ice cream, and finally, some whipped cream. Now it's an ice cream soda, which Bert doesn't want... but Ernie does. (EKA: Episode 0699)
Song: "Watch the Dance": A singer points out the body parts of a dancer. (EKA: Episode 0752)