Ad blocker interference detected!
Wikia is a free-to-use site that makes money from advertising. We have a modified experience for viewers using ad blockers

Wikia is not accessible if you've made further modifications. Remove the custom ad blocker rule(s) and the page will load as expected.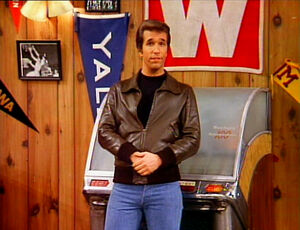 Big Bird wonders what it's like to be small.
Cartoon: What if a mouse and an elephant switched bodies? (EKA: Episode 0343)
The Fonz demonstrates on and off using the diner jukebox. (part 1)
Oscar knows the Indian word for "go away."
The Fonz demonstrates on and off using the diner jukebox. (part 2)
Ernie and Bert: Ernie eats one of the two pieces of chocolate cake that Bert was saving for their dessert. Bert sees Ernie holding a fork in one hand and a napkin with some chocolate on it in the other--and in front of him is a plate full of chocolate-cake crumbs. When Bert accuses Ernie of eating the cake, Ernie tells Bert that a monster came in, ate Bert's cake, and framed Ernie. Bert doesn't believe Ernie's lie. But when Bert leaves the room, Beautiful Day Monster comes in and does exactly what Ernie told Bert happened to the first piece. Ernie tries to explain, but Bert says, "I don't want to talk about it." (First: Episode 0119)
The Fonz demonstrates on and off using the diner jukebox. (part 3)
Cartoon: A girl uses her imagination while sitting on a sofa. (EKA: Episode 0956)
Lefty the Salesman wants to sell Ernie a painting of a tree, which he says is a picture of four elephants. Ernie doesn't see the four elephants, so Lefty offers to show him the elephants if Ernie will buy the picture for a nickel. Lefty points out the elephants, which are actually spaces in the tree's branches. Ernie shells out for the picture. Ernie wants to pull the same trick on Bert, but Bert notices the elephants right away. (First: Episode 0278)