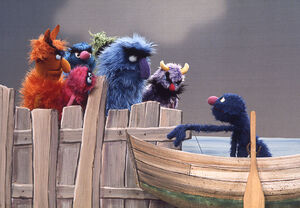 A canary "speaks" in Spanish.
Cartoon: A man goes to the grocery store to buy apples, but he can't decide how many to get. This frustrates the grocer, who has to keep adding and subtracting the amount of apples on his scale. (First: Episode 0132)
In this three-part sketch, Grover and a group of monsters, including Herry Monster, Fenwick and Billy, get into a rowboat. In part one, the monsters all gather at one end, causing the boat to tip over. In part two, they gather on the other end, and the boat tips over again. In part three, the monsters spread out over the boat evenly, and they row away. (EKA: Episode 0425)
Oscar's nephew visits him.
Cartoon: After a kid sees a jumble of shapes, he tells his father about it. The father finds a way to turn the stuff into a cart and tells his son, who remembers to assemble it. (EKA: Episode 0231)
Cartoon: A man displays his invention, the A-box, which only takes the letter A. (EKA: Episode 1204)
Oscar's nephew goes on a trash hunt.