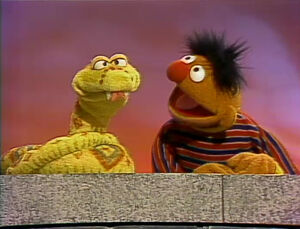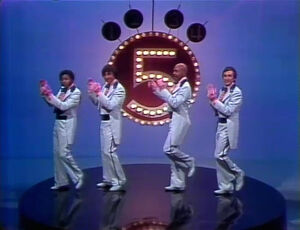 Cartoon: Two men push two large bird eggs to the top of two hills. (EKA: Episode 0936)
Ernie sings "Do What I Do" with Sandy the Snake in an effort to explain how actions can express emotions. However, Sandy finds it difficult to do what Ernie does, since snakes don't have limbs.
Cartoon: Two kids find different uses for a cooking pot. (EKA: Episode 0825)
Ernie is holding a banana in his ear. Bert tries to tell him that he does so, but he can't hear him because of it. (EKA: Episode 1152)
Ernie reveals that he has a banana in his ear in order to keep the alligators away. He uses Bert's denial of any on Sesame Street as proof that his method works.
Kermit at Home: Grover is outside in the snow, freezing. He keeps knocking on Kermit's door, asking how to get warm, and Kermit keeps telling him to come inside. Grover, missing the point, tries ideas of his own to get warm, but they don't work. Finally, Kermit tells Grover that if he wants to get warm, he should come inside. Excited, Grover pulls Kermit aside and slams the door, locking Kermit outside. Grover goes to sleep in Kermit's armchair while the frozen frog scrapes at the window. (EKA: Episode 0598)
Film: Animal body parts and corresponding human body parts
Film: Some kids observe a woman drawing pictures of a building, and eventually guess that she's an architect. (EKA: Episode 0840)
Farley explains things one can do with their mind - he plans on going to the door, he imagines who's knocking at it, he remembers it's not his mother and he hopes there's not a scary monster at the door. Herry Monster surprises him by bursting through the door, frightening Farley away. Herry's sorry Farley ran away; he wanted to play. (EKA: Episode 0180)