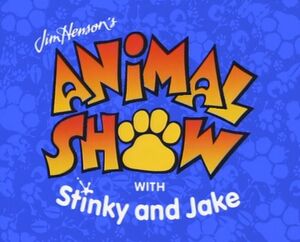 Inspired by the tails of the featured guests, Stinky the Skunk makes a tail for Jake the Polar Bear.
Segments
Opening
That's Amazing: The manatee as a mermaid
Guest: Blanche the Manatee from the waterways of Florida in the U.S.A.
Baby Talk: A manatee and her calf
Tizzy's Quiz: Which of these four animals is a lemur
Yves St. La Roache: How to make Casserole a la Roache
Guest: Billy Bob the Lemur from the forests of Madagascar
Song: Billy Bob sings The Jumping Song
Animal Awards: Which animal has the longest tail compared to the size of it's body
Story: A bunch of hippos playing "Hide the Hippo"
Habitat Time: Florida's oceans
Tizzy's Quiz: Do manatees ever come up out of the water
Closing
Performers
Ad blocker interference detected!
Wikia is a free-to-use site that makes money from advertising. We have a modified experience for viewers using ad blockers

Wikia is not accessible if you've made further modifications. Remove the custom ad blocker rule(s) and the page will load as expected.