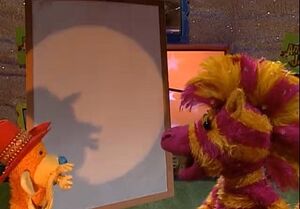 Waffle has nicknamed his shadow "Sammy Syrup" and is eager to show off its many "special talents." Edi, meanwhile, confides in us that shadows make her uneasy. More importantly, she wanders if her own shadow's abilities will measure up to Sammy's.
Songs
The Shadow Game
Bozark Shadow Dancin
Ad blocker interference detected!
Wikia is a free-to-use site that makes money from advertising. We have a modified experience for viewers using ad blockers

Wikia is not accessible if you've made further modifications. Remove the custom ad blocker rule(s) and the page will load as expected.