Ad blocker interference detected!
Wikia is a free-to-use site that makes money from advertising. We have a modified experience for viewers using ad blockers

Wikia is not accessible if you've made further modifications. Remove the custom ad blocker rule(s) and the page will load as expected.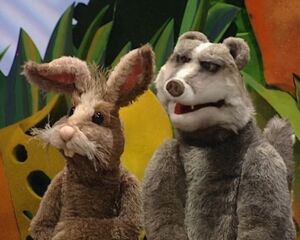 Due to the fact that the featured guests can dig burrows, Stinky the Skunk plots to build a burrow for Jake the Polar Bear.
Segments
Opening
That's Amazing: A 4-month-old female rabbit can have babies
Guest: Humphrey the Badger from Europe and around the world
Baby Talk: A mother badger and her babies
Tizzy's Quiz: Why do people say someone's mad as a march hare
Yves St. La Roache: How to eat while on a pogo-stick
Guest: Sean the Rabbit from the heaps and grasslands of the world
Song: Sean sings The Rabbit Song
Animal Awards: Which animal has the most babies
Story: A mole eats a caterpillar and finds sunlight
Habitat Time: Meadows
Tizzy's Quiz: Does a badger share its burrow with other animals
Closing
Performers