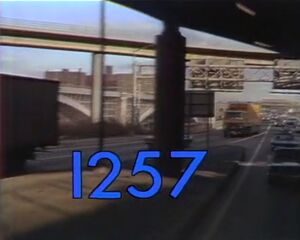 Picture
Segment
Description

SCENE 1
Big Bird welcomes the viewer and tells them about being a baby and how he used to be fed as one. He then introduces a film about it...

Film
Baby animals are fed milk.
(EKA: Episode 0238)

Muppets
Bert has a present for his Aunt Matilda, but Ernie thinks that the present is for him, so he makes several guesses about what it is first, then unwraps it.
(First: Episode 0165)

Cartoon
"That's About the Size of It"
Bud Luckey
(EKA: Episode 0811)

Muppets
The Count counts "The Song of the Count".
(First: Episode 0507)

Film
Bald eagle (kid voice-overs)
Music: Joe Raposo
(EKA: Episode 0734)

Insert
Cookie Monster explains the purpose of a telephone. Then, Maria and Luis tease Cookie by eating the telephone!
(EKA: Episode 0871)

Cartoon
The Story of the Crow and the Pitcher
(EKA: Episode 0999)




Film
Footage of an animal auction, where they auction off animals to dairy farmers and the like.
(EKA: Episode 1009)

Muppets
Kermit's Lectures: Grover helps Kermit show the number 5 using blocks, but Grover doesn't know how many to get (he can't count to 5). Kermit has him go back and forth bringing one until there is five.
(First: Episode 0476)

Cartoon
Pinball Number Count #5

Film
A turtle walks slowly.
Music: "Funeral March of a Marionette" by Charles Gounod

Cartoon
A boy says he has a big surprise in his hand.




SCENE 2
While Mr. Hooper tends to business in his store, a strange character zooms in and frantically asks Mr. Hooper to plug him in before rushing out again. Afterward, Mr. Hooper has a delayed reaction as to what just happened. David enters and Mr. Hooper tries to explain what happened to him. They follow the cord outside to find the mystery person.




SCENE 2 cont'd
The cord leads them to a TV outside, where the monster is focused on it ("I'm glued.") David and Mr. Hooper try to introduce themselves and find that the monster is making his home right there in the middle of the street, considering that his TV is already there. He reveals himself to be Telly Monster and shows off his spinning, dazed eyes.
This street scene appears on the 40 Years of Sunny Days DVD.

Cartoon
A tiny ant pushes the huge N into its place in the alphabet.
(EKA: Episode 0868)

Muppets
"The Ballad of Casey McPhee"
(EKA: Episode 0533)

Cartoon
Nancy the nanny goat nibbles her nails and notices noodles.
Artist: Tee Collins
(EKA: Episode 0306)

Film
There Once Was a Hand series: the right hand plays with a ping-pong ball and tricks the left hand into thinking an egg is one.
(EKA: Episode 1228)

SCENE 3
David tells Olivia about how odd Telly is, but Olivia thinks otherwise. They try to invite him to play baseball with them four blocks away, but he's unable to -- his cord only reaches three blocks.

Cartoon
The IT knows a lot about vacuum cleaners.
(EKA: Episode 1215)

Celebrity
Judy Collins sings "Yesterday, Today and Tomorrow" with some kids on the shore.
(First: Episode 0971)

Animation
Slide puzzle - elephant
(EKA: Episode 0841)

Muppets
Bert tells Ernie to put away his toys, and Ernie devises a system of arranging toys. Unfortunately, all the categories he names apply only to his toy fire engine.
(First: Episode 0281)

Animation
Sand M/m
(EKA: Episode 1091)




SCENE 4
Olivia talks about the letters "m" and "n". Barkley shows her a few N words. She goes over to Telly and asks for some M words. He begins listing some shows beginning with M (including M*A*S*H, Masterpiece Theater, Mickey Mouse and "Muppet Show").

Cartoon
M for mouse, mud, and mother
(First: Episode 0073)

Animation
George the Farmer is "near" when he's on a barrel; he's "far" when he's on the porch.
(First: Episode 0235)

Muppets
Sesame Street News Flash: Prince Charming kisses Sleeping Beauty, intending to wake her up. To his astonishment, she turns into a frog and hops off with Kermit.
(First: Episode 0453)

Cartoon
A STOP sign commands a train to stop.
(EKA: Episode 0893)

Film
A construction worker yells "Timber" and a tree falls to the ground, but then bounces back up!
(EKA: Episode 1126)

Cartoon
Stop! (Moving Colored STOP signs in fast-motion)

Film
A construction worker yells "Timber" and a match slowly falls to the ground.
(EKA: Episode 1126)

Muppets
Harvey Kneeslapper plans to use a hand buzzer when he asks someone to slap him five. Instead, the joker slaps a 5 on his chest.
(First: Episode 0991)

Cartoon
A mouse tries looking for his pet, describing to his friend what they did yesterday.
(EKA: Episode 0807)

Cast
Maria, Luis, Bob and David, dressed as scarecrows, sing about the ankle, shoulder and knee.
(First: Episode 0711)

Cartoon
5s go through a space-shredder and produce 5 objects.
(EKA: Episode 0864)

Film
Prairie dog
Music: Joe Raposo
(EKA: Episode 0303)

Cartoon
The Typewriter: N for Nose
Artist: Jeff Hale
(EKA: Episode 1092)

Animation
Rectangle transition

SCENE 5
Big Bird shows an amazing trick: when he takes 6 steps backward, he ends up on the stoop; when he takes 6 steps forward, he's back on the sidewalk. As he continues doing this, Bob announces the sponsors.




CLOSING SIGNS
Susan holds up the Sesame Street sign, while Gordon holds up the CTW sign at the end
Notes
A draft of the script included a few extra scenes with Telly Monster, which weren't included in the broadcast version. These included a scene with Telly eating TV dinners, a scene where David and Olivia put on a play in an attempt to get Telly to ignore the television, and a different closing scene.[1]
Sources
↑ See Talk: Telly Monster
Ad blocker interference detected!
Wikia is a free-to-use site that makes money from advertising. We have a modified experience for viewers using ad blockers

Wikia is not accessible if you've made further modifications. Remove the custom ad blocker rule(s) and the page will load as expected.