Ad blocker interference detected!
Wikia is a free-to-use site that makes money from advertising. We have a modified experience for viewers using ad blockers

Wikia is not accessible if you've made further modifications. Remove the custom ad blocker rule(s) and the page will load as expected.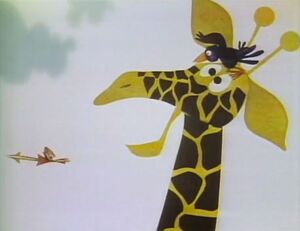 Cartoon: Offscreen voices try to guess what a line turns into. The line becomes a picture of a kite, but a piece breaks off and turns the picture into a fish. (This animation is shown twice -- in English and Spanish.) (EKA: Episode 0297)
Cartoon: A man talks about the capital T, but the top line slides down, forming a lowercase one. (EKA: Episode 0324)
Oscar's doesn't want a wormy apple.
Cartoon: La letra T es para tigre, tomate, taxi, toro, telefono, televisión, y el terrible tiburon. (EKA: Episode 0324)
Cartoon: Two men on a park bench turn their radios up louder and louder, each trying to drown the other's out, until they reach a station they can agree on. (EKA: Episode 0796)
Cartoon: A giraffe in the zoo has swallowed a whistle. Thelma Thumb flies inside the giraffe's throat to find it.