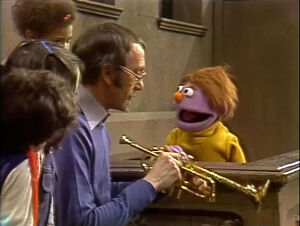 Some children have difficulty putting together a puzzle of the number 3.
Fred Mills, of the Canadian Brass, tries to talk to the kids about the trumpet, but Eugene says all that can be said first.
Film: African children play various games.
Film: A girl is given an eye examination at a doctor's office. (EKA: Episode 1167)
A child holds Eugene's music as he plays his trombone.
Ad blocker interference detected!
Wikia is a free-to-use site that makes money from advertising. We have a modified experience for viewers using ad blockers

Wikia is not accessible if you've made further modifications. Remove the custom ad blocker rule(s) and the page will load as expected.