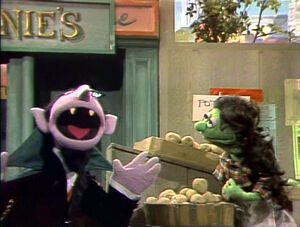 Animation: Drawing a chicken (child V/O in English and Spanish) (EKA: Episode 0838)
Bob and Mr. Mallory remember.
Cartoon: On his way to the store, a boy gets distracted and remembers to buy different things. (EKA: Episode 0853)
Ernie & Bert — Ernie comes up with a way for him to remember to put his basketball away before he goes to sleep: he remembers with his mind, which is in his head; his head is round, and so is the basketball. His plan works the first time, but not when Bert wants to go to sleep. (First: Episode 0134)
Film: Parts of a clown are shown in close-up as kids guess what it is. (EKA: Episode 0956)
Film: Through close-ups, kids identify a cabbage.
Cookie Monster is about to eat a cookie when a sad-looking girl approaches and stares at him. He tries to eat the cookie, but can't do it. He breaks the cookie in half and shares it with the girl. He eats his half of the cookie. When the girl eats her half, she eats it just like Cookie Monster. (EKA: Episode 0730)