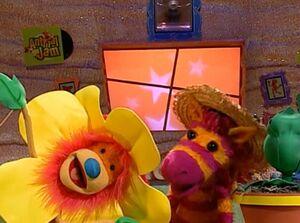 Edi is trying to grow her Zebra Plant's bud and let it bloom into a flower. Waffle tries to help by commanding the flower to grow and even dressed up like a flower name Bloomy to encourage the Zebra Plant to bloom. After watching Bozark's butterfly transformation dance, Edi and Waffle learn how it takes a while for things to grow and they should let Edi's plant grow when it is ready. At that moment, Edi's plant finally bloom and Edi and Waffle are happy to have experience it.
At the DJs' workstation, DJ 3 is pretending to be a plant growing in a pot.
Songs
Springin
Spring It
Bozark Springin
Video releases
Ad blocker interference detected!
Wikia is a free-to-use site that makes money from advertising. We have a modified experience for viewers using ad blockers

Wikia is not accessible if you've made further modifications. Remove the custom ad blocker rule(s) and the page will load as expected.