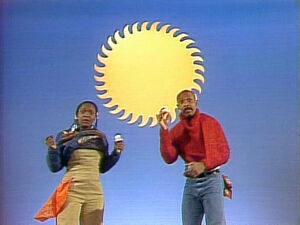 Count von Count wants to count everybody as they wake up -- but he waits so long that he falls asleep.
Muppet lettuce, bread, cheese, butter, and ham argue on who an Anything Muppet girl should have for a snack. They all cooperate to make a sandwich. (EKA: Episode 1231)
Cartoon: A photographer shows off his first picture of cows, his next picture of ducks, and his last picture of a pig.
Cartoon: Big / bigger / biggest (bikes)
Cartoon: Six spaceships are counted, then subtracted.
Animation: The screen fills up with sand, then quickly empties. (EKA: Episode 0353)
Bob finds a puppy near Susan's window after hearing its cries.
Bob is sad to find the owner of the puppy.
Bob thinks he's found yet another puppy.