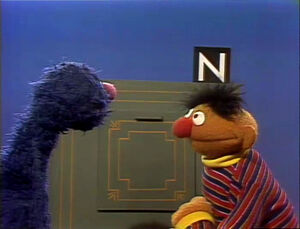 Cartoon: A minstrel sings about a fox who outsmarts a crow. (EKA: Episode 0666)
Muppet & Kid Moments: Kermit, Fanny, and Shola discuss giraffes (leading into a film of real giraffes with music by Joe Raposo). Shola enjoys manhandling Kermit, and jerks his head up and down to demonstrate the concepts of "down and high" (EKA: Episode 1139)
Kids try to put on pullover sweaters.
Film: Gordon joins a class for some exercises.
Ernie and Bert: Bert is preparing to give his nephew Brad a bath, but Ernie chastises him for not providing any bath toys. He brings so many toys that Bert feels there is no longer room for Brad. So as not to waste the water, Ernie hops into the tub. (EKA: Episode 1134)
Film: Two kids visit the police department and watch a policeman prepare some horses for a parade happening in New York City. The kids even get to ride the horses and watch the parade.
Grover watches as Ernie loads various things into a machine that start with M and N. The machine then displays the letter it begins with. Since Grover is a monster, he decides to go in the machine, causing a mess. (EKA: Episode 1201)
Bert asks Ernie to share a banana with him. Ernie gets the inside of the banana, and gives Bert the peel. (EKA: Episode 0600)
Film: two kids participate in a speed-skating competition. (EKA: Episode 1129)
Ad blocker interference detected!
Wikia is a free-to-use site that makes money from advertising. We have a modified experience for viewers using ad blockers

Wikia is not accessible if you've made further modifications. Remove the custom ad blocker rule(s) and the page will load as expected.