Ad blocker interference detected!
Wikia is a free-to-use site that makes money from advertising. We have a modified experience for viewers using ad blockers

Wikia is not accessible if you've made further modifications. Remove the custom ad blocker rule(s) and the page will load as expected.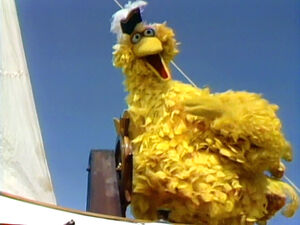 Cartoon: A girl imagines herself as a car that rescues fire victims. (EKA: Episode 0598)
While in City Island, Maria visits some of her friends.
Ernie and Bert: Ernie comes home to a sleeping Bert and tries to think of things to do that won't wake him up. He can't watch TV, and he can't play with his ball. Bored, he decides to take a nap too -- but then he starts to snore. This awakens Bert, who wonders out loud where the noise is coming from, in the process arousing Ernie, who gets mad at being woken up. (First: Episode 0280)
Big Bird sings "Admiral Bird", playing the role of the Admiral of the Navy.
Cartoon: Two kids find different uses for a cooking pot. (EKA: Episode 0825)
Cartoon: In rhyme, a man points out animals who stole and/or ruined his clothing. (EKA: Episode 0971)
David, Maria, Big Bird and Debbie prepare to go sailing.
Big Bird talks about the beach.
Bert teaches his pigeon, Bernice, how to play checkers. Ernie thinks it's amazing that a pigeon can play checkers, but Bert thinks it is no big deal, because Bernice has only beaten Bert in two out of ten games. (EKA: Episode 1227)
Cartoon: Uncle Al tells his nephew a story about a dog he had, but gets mixed up with the details. (EKA: Episode 1145)