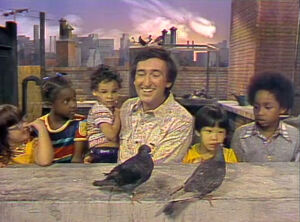 Animation: What goes in the hot dog bun?
Cartoon: Thelma Thumb meets Cyrus the magpie, who, after getting covered with yellow paint, had been mistaken for a canary and locked in a cage in a pet shop. Thelma rescues him and becomes his friend.
Film: Kids have a lost-dog poster made using an old-style printing press. (EKA: Episode 1222)
Luis doesn't have time to fix David's TV set, so David borrows Luis'.
Ad blocker interference detected!
Wikia is a free-to-use site that makes money from advertising. We have a modified experience for viewers using ad blockers

Wikia is not accessible if you've made further modifications. Remove the custom ad blocker rule(s) and the page will load as expected.