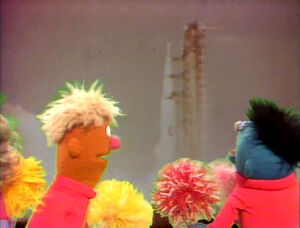 Grover asks The Amazing Mumford if he could make his carrot disappear, provided that some smoke appears. Mumford performs the trick and Grover is impressed by the puff of smoke, however he fails to notice Mumford chomping on his carrot. When Grover asks Mumford to make the carrot reappear, he replies that he can't because he ate it ("You didn't say anything about magic!"). (EKA: Episode 1210)
Film: Gordon and some kids use hula-hoops for many things.
In the kitchen, Ernie bakes some cookies of different shapes, which he lets Cookie Monster eat after he finishes displaying each one to the viewer. (EKA: Episode 1218)
Film: Two kids, Kim and David, help each other put on their smocks before painting a picture. (EKA: Episode 0334)
Film: Wheel rolls away from garbage, boy captures it to complete his wagon. (EKA: Episode 0767)
Cartoon: A man tries to figure out the difference between drinking glasses and eyeglasses. (EKA: Episode 1014)
Ernie and Bert: Bert complains that he can't sleep, because Ernie left the faucet dripping. Ernie drowns out the sound of the water dripping with louder noises. (First: Episode 0131)
Ad blocker interference detected!
Wikia is a free-to-use site that makes money from advertising. We have a modified experience for viewers using ad blockers

Wikia is not accessible if you've made further modifications. Remove the custom ad blocker rule(s) and the page will load as expected.