Ad blocker interference detected!
Wikia is a free-to-use site that makes money from advertising. We have a modified experience for viewers using ad blockers

Wikia is not accessible if you've made further modifications. Remove the custom ad blocker rule(s) and the page will load as expected.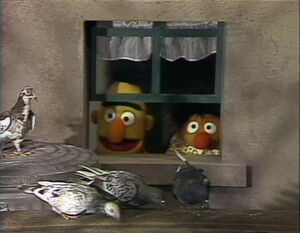 Cartoon: A scientist adds legs, feet, then knees to his robot and tells it to walk, but it dances out of shot instead (as does the scientist).
Waiter Grover: Grover opens a menu and shows Mr. Johnson a large picture of the special sandwich, which comes with potato chips on the side, a pickle on the top, and olive stuck in with a toothpick. When the sandwich arrives, Mr. Johnson complains that it doesn't match the picture on the menu -- it doesn't have potato chips, a pickle, or an olive. (EKA: Episode 0332)
Ernie and Bert: While Ernie looks after Hooper's Store, Bert asks him for something to drink. Ernie starts out with a glass of unflavored soda water, tastes it, and decides it's too dull for his ol' buddy Bert. To Bert's dismay, Ernie then adds some strawberry syrup to the soda water, then a scoop of ice cream, and finally, some whipped cream. Now it's an ice cream soda, which Bert doesn't want... but Ernie does. (EKA: Episode 0699)
Film: A boy compares the growth of sunflowers to his own height. (EKA: Episode 0850)
Cartoon: A wizard walks through a door. A boy in pajamas tries to imitate him without success. (EKA: Episode 1056)
Film: A girl goes to the shoemaker and watches him as he repairs her shoes. (EKA: Episode 1028)
Super Grover: Young Willy Nilly is scared to get his hair cut. Super Grover tells Willy that haircuts are painful, but that he must be brave. However, the barber shows them both that haircuts do not hurt, and soon they're no longer afraid of hair cuts. (EKA: Episode 0717)