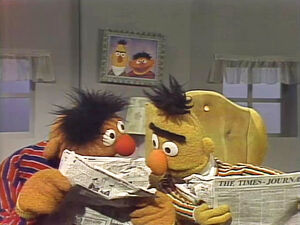 Ernie and Bert: Bert is sitting in his chair and reading the paper, when Ernie comes along and starts reading over Bert's shoulder. They decide to share the paper. Ernie rips it in half, which seems to work until Bert realizes that some of his article is on Ernie's half and starts reading over Ernie's shoulder.
Film: A boy narrates a film of cows being fed hay during winter. (EKA: Episode 0796)
Film: A boy visits the hospital to see his mother's new baby. (EKA: Episode 1125)
The campers construct a tent.
Susan explains how to build a campfire.
After the campfire is built, the gang tells a campfire story full of B words.
Cartoon: A woman serves milk to her cat. Several other cats join him, including a lion. (EKA: Episode 1102)
Film: Sounds--including rooster, sheep, cow, ducks, geese, and silence. (EKA: Episode 0272)
Cartoon: A mother and her son make juice popsicles.
While trying to sleep, Gordon and Susan have an argument.
It starts raining, so all the campers take shelter in Gordon and Susan's tent.
Ernie tries to count his balloons. The balloons are arranged in a circle, so he continues counting around the circle, and counts some of them twice. Grover has a solution -- he pops each of the balloons as he counts them. (First: Episode 0133)
Ad blocker interference detected!
Wikia is a free-to-use site that makes money from advertising. We have a modified experience for viewers using ad blockers

Wikia is not accessible if you've made further modifications. Remove the custom ad blocker rule(s) and the page will load as expected.