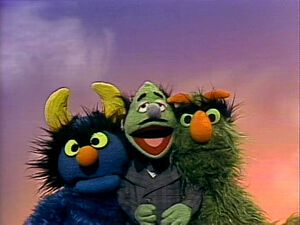 Big Bird believes that everybody should speak Spanish when they see the sign "Se hablo Español".
A man learns how to use zippers, buttons, hooks and snaps.
The Count says he's going away, so Big Bird decides he'll be doing the counting on Sesame Street.
Cartoon: Billy Jo Jive and Suzy Sunset talk about the purpose of land marks.
The Count returns home and finds Big Bird has counted all of Snuffy's body parts.
David sorts by function using some hats and a glove.