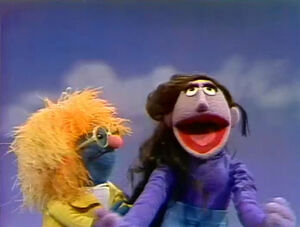 David sings "Street Fever."
Jerry Nelson narrates the story of a hand with fingers and a thumb that refuse to do anything together. Eventually they learn to cooperate when they all want to play with a top. (EKA: Episode 1149)
Film: In time-lapse footage, a construction crew builds a house and paints it green, and a family moves into it.
Bob and Luis put together two halves of a painting of a train tunnel. When they fit the parts together, a train goes through the tunnel and zooms to take up the entire screen, frightening Bob and Luis so much, they take down the tunnel again. (EKA: Episode 0746)
Cartoon: A boy acts out his feelings as animals. ("There's a zoo in me!") (EKA: Episode 0796)
Film: Footage of a city neighborhood; includes shots of a sno-cone vendor. (EKA: Episode 0695)