Ad blocker interference detected!
Wikia is a free-to-use site that makes money from advertising. We have a modified experience for viewers using ad blockers

Wikia is not accessible if you've made further modifications. Remove the custom ad blocker rule(s) and the page will load as expected.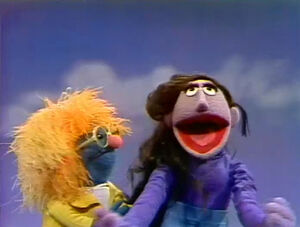 David sings "Street Fever."
Jerry Nelson narrates the story of a hand with fingers and a thumb that refuse to do anything together. Eventually they learn to cooperate when they all want to play with a top. (EKA: Episode 1149)
Film: In time-lapse footage, a construction crew builds a house and paints it green, and a family moves into it.
Bob and Luis put together two halves of a painting of a train tunnel. When they fit the parts together, a train goes through the tunnel and zooms to take up the entire screen, frightening Bob and Luis so much, they take down the tunnel again. (EKA: Episode 0746)
Cartoon: A boy acts out his feelings as animals. ("There's a zoo in me!") (EKA: Episode 0796)
Film: Footage of a city neighborhood; includes shots of a sno-cone vendor. (EKA: Episode 0695)