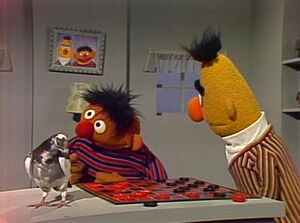 The rain causes a leak in the Fix-It Shop. Big Bird tries to find something big enough to catch the drops.
Cartoon: A girl shows how good she is at drawing buildings. (EKA: Episode 0858)
Big Bird thinks he's responsible for restoring power in Hooper's Store when the power goes out.
Ernie & Bert — Ernie is confused when he sees Bert playing checkers with his pigeon, Bernice. Ernie thinks it's amazing that a pigeon can play checkers, but Bert thinks it is no big deal, because Bernice has only beaten Bert in two out of ten games.