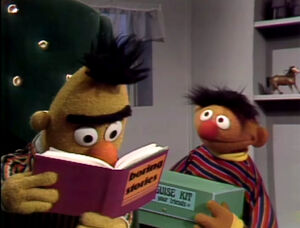 Children dance and count from 1 to 4.
Ernie & Bert — Ernie tries to fool Bert with his disguises such as a pirate disguise and a bearded Red Riding Hood disguise, but Bert recognizes him both times and tells him to stop trying to fool him. Then a wolf knocks on the door and Bert is convinced it's Ernie in disguise again- until Ernie appears at the door! (EKA: Episode 1170)
Film: A gym instructor helps children perform a variety of stretching and bending exercises. (EKA: Episode 1018)
Film: Kids pick green beans in the field. Later their mom cooks the beans, and they eat them. (EKA: Episode 0995)
Film: Some kids watch a film of a man working in a greenhouse, and try to guess what his job is. (EKA: Episode 0826)
The Amazing Mumford: Grover volunteers to assist Mumford in his rhyming magic trick, making three things come out of his hat that rhyme with knee. Grover guesses the first one, but misses the others. (EKA: Episode 0675)
Cartoon: A stubborn hippo sits on a girl's ball, and she tries to figure out how to get it back. (EKA: Episode 1124)
A group of children demonstrate the parts of the body while fingerpainting.