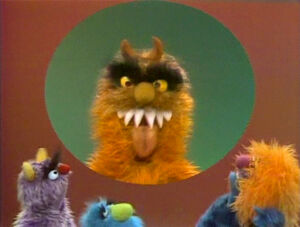 Ernie and Bert: Ernie eats one of the two pieces of chocolate cake that Bert was saving for their dessert. Bert sees Ernie holding a fork in one hand and a napkin with some chocolate on it in the other--and in front of him is a plate full of chocolate-cake crumbs. When Bert accuses Ernie of eating the cake, Ernie tells Bert that a monster came in, ate Bert's cake, and framed Ernie. Bert doesn't believe Ernie's lie. But when Bert leaves the room, Beautiful Day Monster comes in and does exactly what Ernie told Bert happened to the first piece. Ernie tries to explain, but Bert says, "I don't want to talk about it." (First: Episode 0119)
Cody learns how to speak Cree, English and Hawaiian.
Cartoon: A man talks about going to the city, without noticing he's walking right through it. (EKA: Episode 0843)
Cartoon: A man plays several letters of the alphabet as if they were musical instruments. (EKA: Episode 1109)
Ad blocker interference detected!
Wikia is a free-to-use site that makes money from advertising. We have a modified experience for viewers using ad blockers

Wikia is not accessible if you've made further modifications. Remove the custom ad blocker rule(s) and the page will load as expected.