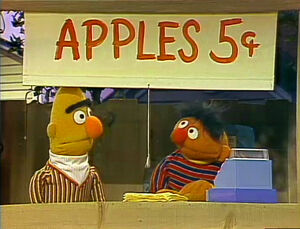 Ernie & Bert — Ernie decides to set up an apple-selling stand, and has everything he needs, leaving out the apples.
Cartoon: Simple Simon meets some strange-looking animals, all of whom have their parts switched around. (EKA: Episode 0822)
Film: Footage of a coral reef, showcasing the plant life and the fish. (EKA: Episode 0824)
Animation: Three little men climb up the three flower stems.
Cartoon: A man tells a confused boy that he saw a bird on a tree, with both of their thoughts appearing on the screen. (EKA: Episode 0814)
The Count keeps Maria awake as he counts the stars in the night sky.
Maria and the Count return home.
Song: "Beet Beet, Sugar Beet"
The Counts the stars in the city.