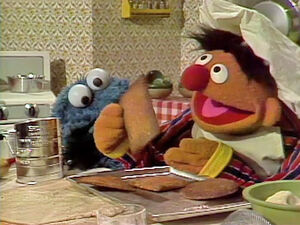 Cartoon: A wizard walks through a door. A boy in pajamas tries to imitate him without success. (EKA: Episode 1056)
Gordon hangs out in a classroom. He joins the kids and the teacher as they play with an elastic rope and get into different shapes. (EKA: Episode 1068)
Cartoon: A little girl tries to figure out why a dog is crying. (EKA: Episode 0862)
Bert sits outside on the Street, pretending to fly a helicopter. Maria sits down with him, and the segment becomes animated as they fly through the air before returning to the Street. (First: Episode 0656)
Film: Kid voiceovers identify a horse's body parts (shown one at a time), then the complete animal. (EKA: Episode 0813)
Cartoon: La letra O - opera, oeste, orquidea, ojos, ocho, y el orquestra de orangutanes. (EKA: Episode 0438)
In the kitchen, Ernie bakes some cookies of different shapes, which he lets Cookie Monster eat after he finishes displaying each one to the viewer.
Ernie & Bert — Ernie thinks that he isn't special. Bert tells Ernie to feel his nose -- "That's an Ernie nose!" -- and then feel his hair, and wiggle his fingers. Bert says that nobody else is just like Ernie. Encouraged, Ernie tells the audience to do the same. (First: Episode 0276)
Cartoon: Two cowboys realize a town is not big enough for both of them. (EKA: Episode 1116)
Film: Kids at school help make cornbread.