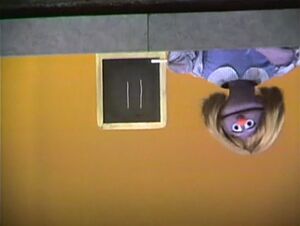 Cartoon: A fisherboy catches all the letters of the alphabet and makes alphabet soup. (First: Episode 0004)
Cartoon: A girl uses her paint-by-the-numbers set to find an elephant in her picture. (EKA: Episode 0803)
Gordon and Olivia have an argument.
Cartoon: A girl talks about preparing to play with her new sled. (EKA: Episode 0573)
Film: to a jazz rhythm soundtrack, the camera zooms in on flowers growing on a tree. (EKA: Episode 0842)
Hubley animation: A girl tries to lure her cat out from under the chair so she can pick him up. (EKA: Episode 0721)
Ernie & Bert — Ernie is planning to go to the library, when he hears on the radio that it might rain. So he gets out his umbrella, and puts on his raincoat, rain hat, and galoshes. Then, in case it floods, he takes a bag of groceries and a life preserver. Finally, he makes Bert go to the library with him, so he won't be stranded in the flood without him. (EKA: Episode 1148)
An Anything Muppet girl shows the viewers that the number 11 is the same right side up and upside down. (Spanish soundtrack)
Film: Kids describe the inside of a fire station.