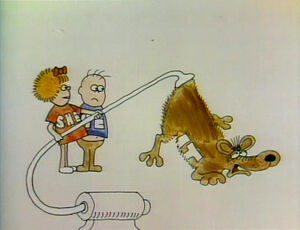 Oscar plays an album called "Great Grouch Sounds."
Cartoon: A cat makes noise with a telephone, typewriter, trumpet, and piano. When the cat leaves, the devices come to life, and when he comes back, they all sound at once, frightening the cat. (EKA: Episode 0995)
Film: The camera zooms out on a pepper as kids guess what it is. (EKA: Episode 1138)
Cartoon: A boxer explains the letter "B". (Spanish remake) (EKA: Episode 0381)
Film: A beekeeper extracts honey from honeycomb.
Cartoon: A lost man in the desert asks a stranger for directions to the city. He builds a pretend city out of sand to show what it looks like. As it turns out, the stranger is an alien. (EKA: Episode 0811)
Cartoon: The IT knows a lot about vacuum cleaners.
Ernie finds an apple on a brick wall, and wants to know who it belongs to. Sherlock Hemlock helps solve the mystery, and realizes that Ernie has a brown paper bag with a hole at the bottom, and that Ernie had an apple in the bag, therefore the apple belongs to Ernie. (First: Episode 0137)