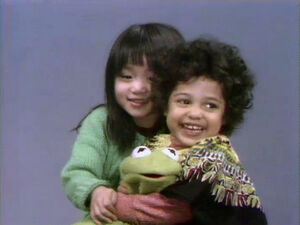 Ernie & Bert — Ernie tries to figure out what time it is at night. It's too dark to see the clock, so Ernie has a new solution: he pokes his head out the window and sings some loud, off-key opera ("O SOLE MIO, O SOLE YOU-OH") which causes everyone to wake up and yell at him to stop singing, and even mention what time it is. It's 3:00 AM. (EKA: Episode 1153)
Muppet & Kid Moment — Kermit the Frog, Shola and Fannie have just finished watching the previous film. Shola hugs Kermit, and he comments, "She learned a lot from the octopus ... how to squeeze!"
Oscar wants to be in a Grouch parade.
Oscar shows everyone his float for the parade.