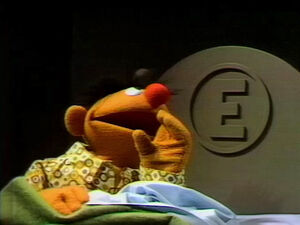 Cody tries different things all by himself.
Ernie & Bert — Ernie is thirsty, and imagines that he's drinking nice cold water. Irritated, Bert tells him to go get a real glass of water. Ernie does, but then he annoys Bert by saying that now he's hungry. He then imagines himself eating a big peanut butter and banana sandwich. (EKA: Episode 0679)
Big Bird thinks toys grow just like people do.
Cartoon: A cat tries to teach the alley cats to play music in harmony. (EKA: Episode 0926)
Narrated segment: Three kids at three separate tables want to paint, but each of them has only one item. They all cooperate so each one has paint, brushes and paper. (EKA: Episode 0318)
Film: A woman and a girl talk about things they see in the river. (EKA: Episode 0945)
Cartoon: The IT knows how locks and keys work.