Ad blocker interference detected!
Wikia is a free-to-use site that makes money from advertising. We have a modified experience for viewers using ad blockers

Wikia is not accessible if you've made further modifications. Remove the custom ad blocker rule(s) and the page will load as expected.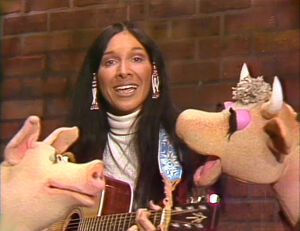 Beat the Time: Guy Smiley hosts "Beat the Time". In order to win a cookie, Cookie Monster has to bring in three things that rhyme with the word "rain" before the hand goes around the clock. They turn out to be an old man's "cane", a "chain" (to which Frazzle is attached), and finally a "train" which destroys the set. (EKA: Episode 0494)
Film: Kids narrate a tortilla contest in English and Spanish. (EKA: Episode 0573)
Cartoon: A pink circle splits into a cat, and a gray circle splits into a mouse. (EKA: Episode 1129)
Cartoon: Policemen find clues that lead them to a stolen tub. (EKA: Episode 0868)
Cartoon: A painter paints red paint all around the screen, eventually painting over himself. (EKA: Episode 0268)
Maria tells the story of "The King's Nose". King Marvin the Magnificent (The Amazing Mumford) is agreed by everyone in the kingdom to be truly magnificent. One day, a young boy named Bruce (Ernie) decides to throw his pink rubber ball as far as he can. The ball goes through the palace window, hits the King on the nose, and sticks there. Everyone copies the King by placing a pink rubber ball on his own nose... except Bruce, who comes into the palace to look for his own ball. Bruce says how silly everyone looks, including the King, who agrees when he sees himself in a mirror. Once Bruce takes the ball off the King's nose, the others take the balls off of their own noses. The King thanks Bruce for pointing out how silly everyone looked, and he gives Bruce back his ball, plus an extra one. He gives the remaining balls to his daughter, Princess Emily (Cookie Monster), who eats them. (EKA: Episode 0597)
Gladys the Cow and Patty the Pig come across Buffy practicing on the street and are star struck. Buffy gets fed up with the pressures of the city and reminisces about being back in the country by singing "I'm Gonna Be a Country Girl."
Sign Cartoons: After saying "BINGO," a robot-like cleaning contraption comes on-screen and scrubs the signreader's foot.
Cartoon: A boy tries to guess what a voice belongs to by asking it questions, and wins a ride on a giraffe. (EKA: Episode 1057)
Big Bird goes out in the rain.
Cartoon: A girl imagines she's a rock, which becomes a statue. (EKA: Episode 0773)