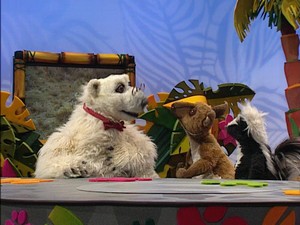 Stinky and Jake meet two hopping animals, a kangaroo and a frog. This inspires Stinky to try to hop further than anyone else.
Segments
Opening
That's Amazing: Most Dangerous Frog
Guest: Kasey the Kangaroo from Australia
Baby Talk: Baby kangaroos
Song: Hello Sunshine
Tizzy's Quiz: Do all frogs lay their eggs in the water?
Yves St. La Roache: Fat Fly Pie
Guest: Leapovitch the Frog
Song: Leapovitch sings Feelin' Froggy
Animal Awards: The Greatest Hopper
Story: Tadpole story
Habitat Time: pond
Tizzy's Quiz: Do kangaroos live in trees?
Closing
Cast
Home video
Trivia
Ad blocker interference detected!
Wikia is a free-to-use site that makes money from advertising. We have a modified experience for viewers using ad blockers

Wikia is not accessible if you've made further modifications. Remove the custom ad blocker rule(s) and the page will load as expected.