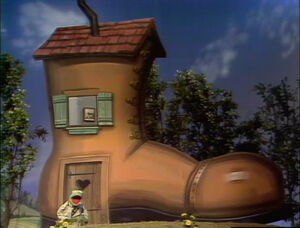 Cartoon: Billy Jo Jive - The doctor asks Billy and Sunset to get Bad News Barton to his office. They eventually bring Bad News Barton to the office, but the whole thing had been a set-up to get Billy Jo Jive to come to the doctor to get a shot.
Film: in the woods, a lumberjack yells "Timber!", and unexpectedly causes a match to fall over instead. Later, in another film, the lumberjack's "Timber!" brings down a tree that somehow springs back up. (EKA: Episode 1126)
Everyone brings different kinds of food for a picnic on the roof of 123 Sesame Street.
Buffy sings a picnic song.
Ernie & Bert — Ernie wants Bert to pretend to be mad, but Bert says that he can't, because he has nothing to feel angry about. Ernie asks Bert to pretend that he borrowed Bert's paper clip collection, and lost his favorite paper clip. The thought makes Bert really mad. Bert gets tired out, and tells Ernie that he can't get mad anymore. Ernie makes a confession -- he really did lose Bert's favorite paper clip. (EKA: Episode 0267)
Everybody helps clean up the picnic area.
Oscar decides to have a Grouch picnic.