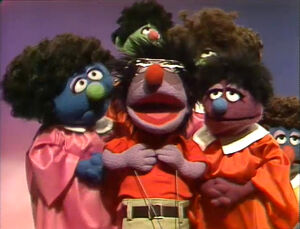 Mr. Hooper doesn't notice a "DANGER" sign and injures his arm.
Grover narrates a fairy tale, "The Cursed Prince", starring David and Maria. David is a prince who has been cursed by a witch. The curse can only be broken by Princess Maria's kiss, which turns him into Kermit the Frog.
Mr. Hooper visits the doctor and gets an x-ray of his arm.
Film: A girl narrates a film of her grandpa putting a horseshoe on their horse. (EKA: Episode 0679)
Animation: A red ball with dots tries to join a group of red balls with black stripes. (EKA: Episode 0839)
Mr. Hooper meets a friend with a broken arm.
Mr. Hooper managers to work at the store in spite of having his arm in a sling.