Ad blocker interference detected!
Wikia is a free-to-use site that makes money from advertising. We have a modified experience for viewers using ad blockers

Wikia is not accessible if you've made further modifications. Remove the custom ad blocker rule(s) and the page will load as expected.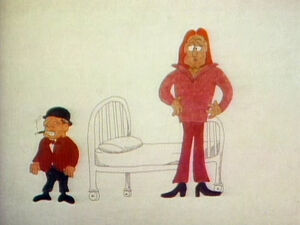 Cartoon: A little girl imagines what would happen if she dropped her bag of ping pong balls. (EKA: Episode 0899)
Cartoon: Fred, a singer, fails to figure out the words that rhyme with his name in the song he sings. (EKA: Episode 0977)
Luis saws a piece of wood into a triangle, a square, and a rectangle.
Cartoon: "Story of L" -- Two boys hear a story of a lion who chases after a leopard. (EKA: Episode 0198)
Maria helps Herry Monster match the pieces of his new barbell with those of his old barbell.
Susan asks the children to imagine that they are on a farm.