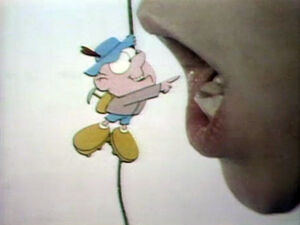 Film: a man makes a shadow puppet of a dog.
Ernie and Bert: Bert finds it difficult to listen to Pigeons in the News while Ernie and the Sesame Street Citizens' Band are outside practicing. In yet another case of miscommunication between the two, since Bert doesn't like it when they practice outside, Ernie leads the band into the apartment so they can practice inside. (EKA: Episode 1136)
Film: A girl goes to the shoemaker and watches him as he repairs her shoes. (EKA: Episode 1028)
Ernie and Bert: Ernie shows drawings to Bert, and Bert has to guess what happened. Ernie has a drawing of an empty bird cage with an open door (the bird flew away), and a man lying on the ground with a banana peel next to him (he slipped on it). Then Ernie shows Bert an blank piece of paper. The answer to that one is that there was a cow eating grass, but the grass is all eaten now and the cow went home. (First: Episode 0030)
Ad blocker interference detected!
Wikia is a free-to-use site that makes money from advertising. We have a modified experience for viewers using ad blockers

Wikia is not accessible if you've made further modifications. Remove the custom ad blocker rule(s) and the page will load as expected.