Episode 1199
Talk

0
27,099pages on
this wiki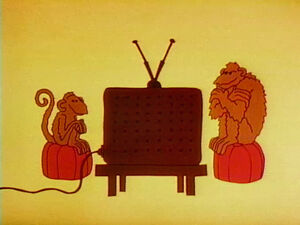 The Count counts bicycle spokes, raisins, and Gordon's laundry.
Cartoon: Two monkeys argue over what to watch on TV, growing bigger the angrier they get. (EKA: Episode 0844)
Cartoon: A photographer tries to look for some animals quietly, but they all end up secretly following him. (EKA: Episode 0845)
Film: Children show how they make a scarecrow.
Big Bird takes a telephone message for Olivia.
Cartoon: A man thinks about small things, and lists them. A sea monster thinks it is small, especially when compared to its father! (EKA: Episode 1146)
Ernie and Bert: Ernie is sad, because it's raining and he can't play baseball. Bert encourages him to imagine that he's playing instead. In Ernie's imagination, he hits a high fly ball that lands in the ocean. When Bert tells Ernie that the sun has come out, Ernie says that he can't go out and play -- his ball fell in the ocean. (EKA: Episode 0678)
Cartoon: A green man demonstrates dark and light.