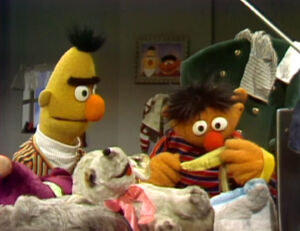 Maria explains the difference between the letters "G" and "Q".
Count von Count: The Count has come to order hot dogs -- lots of hot dogs. But when Grover refuses to get more hot dogs because the Count will only count them and not eat them, the Count uses a hypnotism spell to get more. (EKA: Episode 0904)
Oscar's friend Georgie returns to Sesame Street and brings him a present.
Oscar demonstrates the "grouch method" of reading.