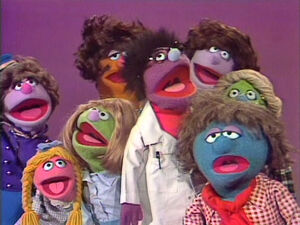 Ernie & Bert — Bert says he's too cold, so Ernie goes overboard to get him warm by putting layer after layer of clothing upon him. This makes him too hot, so Ernie gives Bert an ice bag, opens the window and brings his electric fan. (EKA: Episode 0529)
Children pretend to be various animals while they also try to sound like them.
Animation: A picture of a girl playing a guitar is drawn as off-screen kids (speaking English and Spanish) try to guess what the drawing will be. (EKA: Episode 0406)
Maria imagines that she is a basketball player.
Cartoon: A scientist builds a robot that has real feelings, such as sad, happy and afraid. (EKA: Episode 0812)
Sesame Street News Flash: A princess says that the one she has chosen to be her prince has bulgy eyes, small ears, and a funny voice, is wearing a hat and coat, and is a frog. Kermit the Frog is the only one who fits that description, so she kisses him, thinking he'll become a prince. In a puff of smoke, she turns into a frog. Kermit invites her to "the hop", and she accepts. (EKA: Episode 0952)
Musicians practice by the pool at Lincoln Center in New York.
Ernie & Bert — Bert is sitting in his chair and reading the paper, when Ernie comes along and starts reading over Bert's shoulder. They decide to share the paper. Ernie rips it in half, which seems to work until Bert starts reading over Ernie's shoulder.