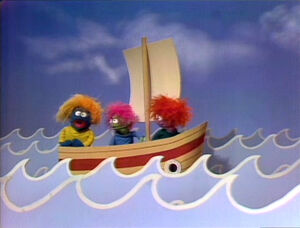 Linda describes a family picnic.
Song: "Vamos a Tomal El Fresco"
Cartoon: Ralph asks Marvin what would happen if he didn't have a mouth, a nose and ears. (EKA: Episode 0831)
Film: At a fiesta, a group of kids try to break through a piñata. (EKA: Episode 0678)
Ernie and Bert: Ernie tries to put a pot on Bert's head. Bert asks Ernie why he's doing that, and Ernie says that he broke a cookie jar. Ernie has to put the cookies somewhere, so he put them in the sugar bowl – and put the sugar in the flowerpot, which meant that he had to put the flower in a milk bottle. He put the milk in the soda bottle, and the soda into the fishbowl, and the fish in Bert's cowboy hat. Bert asks, "Now what am I going to wear when I want to play cowboy?" Ernie puts the pot on Bert's head and says, "Ride 'em, cowboy, Bert!" (First: Episode 0279)
Animation: two lines go their own way after they agree to cooperate. (EKA: Episode 0276)
Ad blocker interference detected!
Wikia is a free-to-use site that makes money from advertising. We have a modified experience for viewers using ad blockers

Wikia is not accessible if you've made further modifications. Remove the custom ad blocker rule(s) and the page will load as expected.