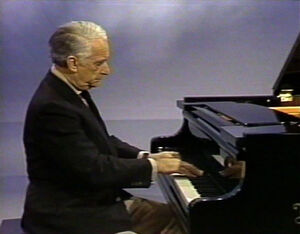 Big Bird uses his name to demonstrate "big" and "little".
Old West: The town doctor ("Doc") comes to a saloon to meet Mean Manny and his gang, even though Manny is the toughest guy in town and plans to have a "shootin' party." Manny and his posse arrive on time and meet with Doc and his medicine...he gives them all measle shots. (EKA: Episode 1166)
Cartoon: What if an anteater had the features of a giraffe? (EKA: Episode 0837)
Cookie Monster sees styrofoam letters that spell the word FOOD. After he sounds them out, he dons a bib, sprinkles salt and pepper on the letters, and not only eats those ... but the salt and pepper shakers AND the bib to boot! (EKA: Episode 0723)
Grover: In this three-part sketch, Grover and a group of monsters, including Herry Monster, Fenwick and Billy, get into a rowboat. In part one, the monsters all gather at one end, causing the boat to tip over. In part two, they gather on the other end, and the boat tips over again. In part three, the monsters spread out over the boat evenly, and row away. (EKA: Episode 0877)
Big Bird redecorates his nest.
Ernie and Bert: Ernie comes home to a sleeping Bert and tries to think of things to do that won't wake him up. He can't watch TV, and he can't play with his ball. Bored, he decides to take a nap too -- but then he starts to snore. This awakens Bert, who wonders out loud where the noise is coming from, in the process arousing Ernie, who gets mad at being woken up. (First: Episode 0280)
Ad blocker interference detected!
Wikia is a free-to-use site that makes money from advertising. We have a modified experience for viewers using ad blockers

Wikia is not accessible if you've made further modifications. Remove the custom ad blocker rule(s) and the page will load as expected.