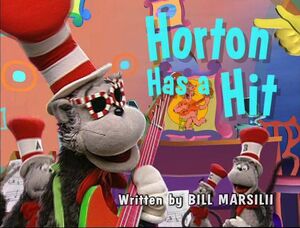 When Yertle the Turtle hears Horton the Elephant singing a lullaby to Morton the Elephant Bird, he knows that Horton has what it takes to make it to the top (and to take Yertle with him). Horton must leave the suddenly-popular Morton in the care of his Uncle Norton as he goes on tour. Is all the fame and fortune worth it?
Songs
Video releases
Ad blocker interference detected!
Wikia is a free-to-use site that makes money from advertising. We have a modified experience for viewers using ad blockers

Wikia is not accessible if you've made further modifications. Remove the custom ad blocker rule(s) and the page will load as expected.