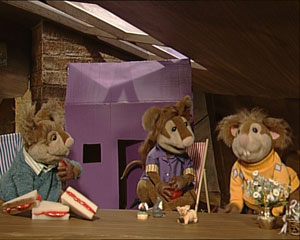 Mopatop begins the episode by offering hay on a tray, some clay, or a horse that says neigh.
Lamont the Sloth delivers a box with nothing in it. When Mother Mouse hears that there's an empty box in the shop, she wants it for her garden shed, so Father Mouse and Mother Mouse ask Moosey Mouse to fetch the box for them. It turns out that Puppyduck ordered a empty box because she likes to open things. She's disappointed when she sees that Mopatop has already opened her box. He then suggests that they have a grand opening, where Puppyduck can open everything in the shop. They end the day by having a grand closing.
Video releases
Performers
Ad blocker interference detected!
Wikia is a free-to-use site that makes money from advertising. We have a modified experience for viewers using ad blockers

Wikia is not accessible if you've made further modifications. Remove the custom ad blocker rule(s) and the page will load as expected.