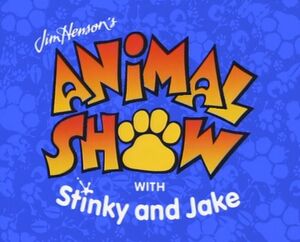 Plot
Stinky and Jake meet two famous animal builders.
Segments
Opening
That's Amazing: The world's largest spider
Guest: Morton the Beaver from Canada and the United States
Baby Talk: Young beavers swimming
Song: A Time to Build
Tizzy's Quiz: Which of these animals uses something to build a home
Yves St. La Roache: How to make things out of food
Guest: Rudy the Spider from all around the world
Song: Rudy sings The Spider Song
Animal Awards: Which animal has the weirdest tail?
Story: A beaver and a mountain lion
Habitat Time: Waterfall
Tizzy's Quiz: What would happen to a beaver's teeth if it didn't chew wood?
Closing
Performers
Ad blocker interference detected!
Wikia is a free-to-use site that makes money from advertising. We have a modified experience for viewers using ad blockers

Wikia is not accessible if you've made further modifications. Remove the custom ad blocker rule(s) and the page will load as expected.