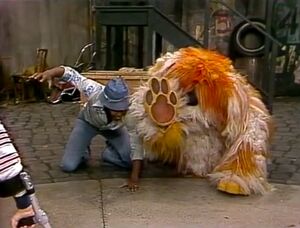 Cartoon: A girl looks for an elephant in a paint-by-numbers picture. (EKA: Episode 0803)
Maria and the kids (with Barkley curiously watching) discuss what a dog needs to stay healthy.
Big Bird notices that the bus stop sign is missing the letter "B". Maria fixes it by replacing the missing letter on the sign.
Ad blocker interference detected!
Wikia is a free-to-use site that makes money from advertising. We have a modified experience for viewers using ad blockers

Wikia is not accessible if you've made further modifications. Remove the custom ad blocker rule(s) and the page will load as expected.