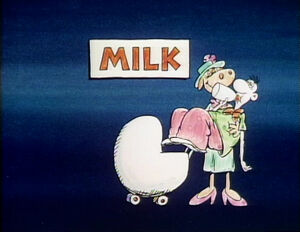 Song: "Out with the Morning"
Cartoon: The profile of a man's face changes to different kinds of profiles. (EKA: Episode 1013)
Cartoon: A photographer tries to look for some animals quietly, but they all end up secretly following him. (EKA: Episode 0845)
Children bounce balloons.
Oscar gives grouch lessons.
Cartoon: Two kids find different uses for a cooking pot. (EKA: Episode 0825)
Grover stays out in the rain and gets wet.
Sesame Street News Flash: Kermit stands by a grandfather clock waiting for a mouse to run up it, acting out "Hickory Dickory Dock". Gladys the Cow and a duck show up instead. Finally, a horse comes in and explains that the mouse can't make it. The horse runs through the clock, breaking it in the process. (EKA: Episode 0710)
Ad blocker interference detected!
Wikia is a free-to-use site that makes money from advertising. We have a modified experience for viewers using ad blockers

Wikia is not accessible if you've made further modifications. Remove the custom ad blocker rule(s) and the page will load as expected.