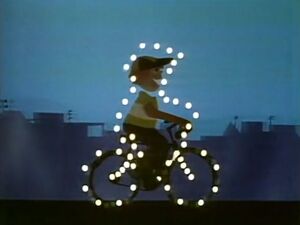 "There's a Hole in the Bucket": When Henry discovers a hole in his bucket, he tries to figure out how to solve the problem. His wife, Liza, patiently tries to help him by explaining what to do, but is frustrated with his incompetence. (EKA: Episode 0948)
Film: An Hispanic boy gets up, gets dressed, and goes to school as Spanish music plays (A la luna no voy yo). (EKA: Episode 0829)
Cartoon: Two groups of mountain goats try to pass each other on a mountain road. (EKA: Episode 0810)
Ernie meets the "Cookie Bunny" (Cookie Monster), who adds up the total number of cookies he has in his basket. After finding that there are three of them, he decides to hide them where nobody will find them...in his tummy!
Film: A little girl catches a lobster.
Thelma Thumb: A friend of Marcia's is in danger: he's riding his bike at night without lights. Marcia transforms into Thelma and asks the fireflies for help.
Animation: A lollipop finds its place next to another lollipop. (EKA: Episode 0838)
Ernie and Bert: Early in the morning, Ernie sees some pigeons through the window, and wonders if he should wake Bert.
Ad blocker interference detected!
Wikia is a free-to-use site that makes money from advertising. We have a modified experience for viewers using ad blockers

Wikia is not accessible if you've made further modifications. Remove the custom ad blocker rule(s) and the page will load as expected.