Ad blocker interference detected!
Wikia is a free-to-use site that makes money from advertising. We have a modified experience for viewers using ad blockers

Wikia is not accessible if you've made further modifications. Remove the custom ad blocker rule(s) and the page will load as expected.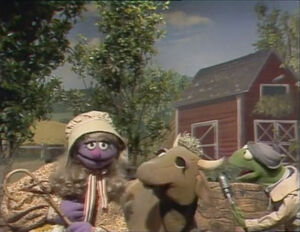 Cartoon: A boy gets lost, and encounters a man with a yo-yo, who tells him to remember everything he passed. (Artist: Jeff Hale) (EKA: Episode 0668)
Guy Smiley hosts "The Remembering Game", a game show in which the constants must match pictures based on memory. The winner gets whatever item was in the pictures they matched, and the other contestant wins the item from the remaining two pictures as a consolation prize. Bill Smith wins a cookie, and Cookie Monster wins a jet plane. Disappointed, Cookie Monster suggests that they switch prizes. (EKA: Episode 0310)
Cartoon: A fisherman becomes frustrated with all the seaweed he's catching instead of fish. To cure his woes, he removes the surrounding plant life, but still doesn't catch any fish. A clam informs him that by removing the fish food, he's disrupted the ecosystem. No food: no fish. (EKA: Episode 0851)
Children "mirror" various exercises demonstrated by Linda.
Ernie and Bert: Ernie has heard that somebody in the neighborhood is sick. He looks in a medical book to find out how to tell if someone is sick... not realizing that Bert is the one with a cold. (EKA: Episode 0673)
David describes sounds to Linda.
Sesame Street News Flash: Kermit encounters a distressed Little Bo Peep, whose sheep is missing. They both observe every sheep that walks by - the first sheep has its tail in front (on its face); the second one has its tail in the middle (on its back), and the third one has no tail. The fourth one does have a tail where it should be: behind. However, this indignant sheep claims to be Mary's little lamb. Kermit tells us to stay tuned for updates on the search for the lost sheep. Later, Bo Peep has had no luck in finding her sheep; instead she encounters Gladys the Cow pretending to be a sheep, and Fred the Wonder Horse pretending to be a dog. Kermit decides to give up on the search, and returns us to our regularly scheduled program. (EKA: Episode 1084)
Film: kids play in the snow.
Kermit's Lectures: Bob holds an American bullfrog and asks Kermit to talk about frogs. However, due to living a somewhat different life than normal frogs, what Kermit says about frogs is somewhat incorrect; for example, Kermit believes that frogs eat fried chicken and pizza, and live in apartment houses. (First: Episode 0277)
David remembers a dance he used to do when he was a child.