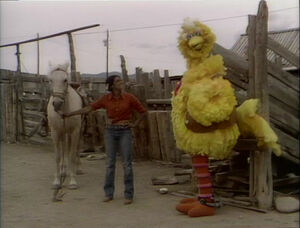 Big Bird finds out that everybody on the New Mexico ranch gets up early because they have work to do. He tries out the chicken feed that a woman is throwing to the chickens, and says it's pretty good. He then wanders around, and finds Gordon and some kids feeding alfalfa to a bunny. Big Bird walks over to Maria and Roberta, and they show him how they make adobe bricks. Then he passes by Bob building a window. Oscar is tending to his morning chores, too -- helping Señor Romo feed slops to the pigs.
Sesame Street News Flash: Kermit interviews Cinderella and Prince Charming, who are dancing at the ball. After Cinderella leaves at midnight, she leaves one glass slipper behind. The prince wants to use it to find Cinderella... so he can have the other glass slipper. Then he accidentally breaks the first one. (EKA: Episode 0516)
"Buffalo" Bird dresses up in cowboy vest and spurs for his first horse-riding lesson. Maria brings the horse, Princess, but she notices that Big Bird is nervous about the horse. She shows Big Bird how to be gentle with the horse.
Bob notices some T words around the farm -- "truck", "tire"... and when he sees that the tire is flat, he's found "trouble".
Film: While watching her goldfish, a girl wonders what the world is like from her goldfish's perspective. (EKA: Episode 0709)
Having inflated the tire himself, Bob has become "tired."
Luis, Gordon, Maria and Bob are all working hard building the new house. Big Bird offers to help, the work is too dangerous, and everyone tells him to go play. Big Bird gets upset -- he came to New Mexico to help, too! The adults confer, and then they say that they can't get their work done unless somebody goes and gets them some water. Big Bird is thrilled to have a job to do.
Film: A boy visits the hospital to see his mother's new baby. (EKA: Episode 1125)
Ernie and Bert: Ernie brings an umbrella, a flashlight, and a bowling ball to the bathtub, just in case the electricity goes out, the roof leaks, and somebody shows up asking to borrow a bowling ball. Bert thinks that Ernie is being ridiculous -- but everything happens, just as Ernie predicted. (EKA: Episode 0269)
Luis and a boy ride on a horse.
Everyone's work is done, so the Sesame Street friends sing about "Goin' Home." Emotions swell up within Luis as he knows he's about to leave his childhood home again. He says goodbye to his family. Maria announces the sponsors, and as the end credits roll, everybody gets in the truck... except for Big Bird, who's so excited that he stands with the family waving goodbye. As the truck pulls away, he remembers that he's supposed to be on it. His friends stop for him, and help him onto the truck. They drive away, back to Sesame Street.
Ad blocker interference detected!
Wikia is a free-to-use site that makes money from advertising. We have a modified experience for viewers using ad blockers

Wikia is not accessible if you've made further modifications. Remove the custom ad blocker rule(s) and the page will load as expected.