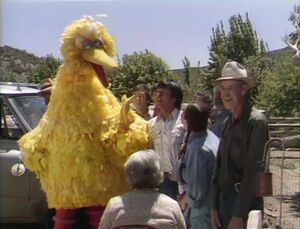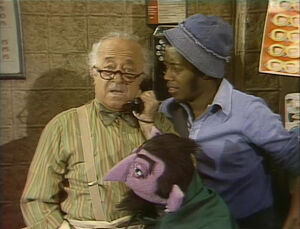 The truck arrives at the ranch in New Mexico where Spanish-speaking people are waiting. Luis greets his relatives with hugs, and introduces them to his friends. Big Bird is introduced to Luis' relatives. He attempts to greet them in Spanish, but they understand each other in spite of the language barrier.
Cartoon: A girl wonders what would happen if she drew lines together and in different ways, and considers drawing them for a living when she grows up. (EKA: Episode 0856)
Sign Cartoons: "WALK TALL" - A snake tells the man that all he (the snake) can do is "crawl tall."
Roberta shows Gordon how to make bread in the horno (oven). The stone dome can hold a lot of heat, and the bread is ready in twenty minutes.
Luis talks to the viewer about the adobe house he and his friends are going to help his grandfather build. Besides adobe, the house is also made of wood and cement. Oscar perks up when he hears that the adobe bricks are made of mud, but becomes frustrated when he learns the bricks are used to build the house.
Film: How a steamroller is used.
Bob encounters Big Bird looking very lonely. He wants to "go over there and make friends with them," but feels shy. Bob sings an uplifting song, "Don't Be Afraid to Make Friends," which boosts Big Bird's confidence. He musters up the courage to introduce himself to the ... chickens.
Mr. Hooper identifies some friends Big Bird is introducing to him through the telephone. The friends are farm animals, and a few people. At the same time, The Count counts all of Big Bird's friends.
Luis herds a flock of sheep into the corral.
At twilight, everyone talks about their great day inside the house. Maria announces the sponsors. The story of the New Mexico trip continues in Episode 1162.